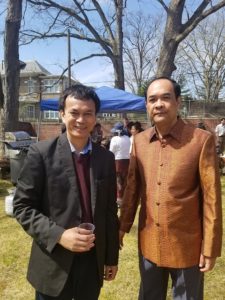 His Excellency Chum Sounry, came across as a pleasant and passionate man who wills to connect with the Khmer communities in America. In fact, it was amongst the first sentences out of his mouth with Managing Director of IKARE, Kosol Sek, at the April 7 Khmer New Year and welcoming ceremony for the new Ambassador from Cambodia.
Khmer Ambassador to the United States and Mexico H.E. Chum, Sounry offered some private time to discuss and to emphasize his desires to connect with the Cambodian American communities. Kosol Sek leads the meeting with, "Excellency, the challenge and my observation of the Khmer communities in America is that they have lost faith and trust in the Cambodian Government and leaders. I believe the solution to connecting with them is to build trust and providing real services to the people. "
"I want the Khmer people to come to me and share with me what they need. I cannot do for them unless they ask for my help. I cannot go to all of them," affirmed the Ambassador.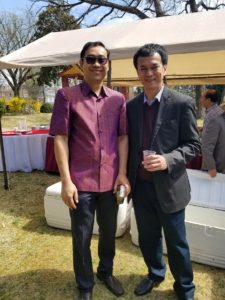 Photo with First Secretary, Vong Channoch, of the Royal Embassy in Washington, DC.